What an Amazing Experience! Reflections on I Am Art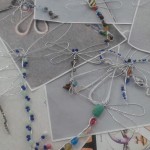 Remember that trip I wrote about in November? The one where I'd be joining people from all over the U.S. I didn't know to do an art camp at a home for abused girls in Guatemala? It was an amazing experience! I returned in early December and thought I'd share some thoughts and pictures.
Athentikos did a great job preparing us. We had some Google Chat calls in the months before the trip so all of the participants could "meet" virtually and ask questions about how the art camp would work. What's that game show where famous people are in boxes on the TV screen? Anyway, that's what it felt like.
The best thing Athentikos was they set up a virtual call with an art therapist to explain what we might see in the art or the behavior of the girls, and what to do if we did. It was super helpful to me since all of my other training trips have been with economically disadvantaged women and girls and likely some abused but not the majority.
As the trip approached, we were asked to write our curriculum and follow a strict format.  I found out at the camp that I was one of the few to actually write anything down!  They asked us all to do something that made me uncomfortable: have the girls make something beautiful, then ruin it and later make it into something else and talk about how that made them feel. Wow, I didn't want to see anyone cry!  But, I found a way to do it (you can read  more about that in a prior blog post).  I put a part of my workshop curriculum below in case you want to take a look.
Here were some books recommended to us for the trip: Geography of Grace; The Poor Will Be Glad;  When Helping Hurts; and The Hole In Our Gospel.
I met the co- authors of Geography of Grace…one of them even lives in Tacoma where I hang my hat about half of the year these days. The other is a pastor living in Guatemala, a mentor to Athentikos, and he happened to be coming to Tacoma before the trip so I went to meet both of them.  And, they gave me their book.  I asked them to sign it but they said I should read it first and see if I still wanted them to…that's how fun they both were.  And lucky me, when I arrived in Guatemala I got to stay with the pastor's family the first night since I arrived later than the others.  The first few pictures (here's the link to the trip photos) are of their house/guest houses.
I also read The Hole In Our Gospel partly because it was written by the CEO of World Vision which is headquartered in Federal Way. I have a great respect for their work and have visited their campus and followed their projects around the world.
So, the trip!  The girls.  Well, these girls are amazing.  They soaked in everything and seemed so happy you couldn't believe the terrible things they'd been through. But they had and in "large group" (singing, games, scripture) they were encouraged to tell us about it.  I didn't realize this until the third day because I don't speak Spanish!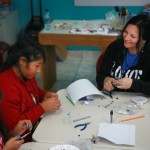 Two girls told me their stories of abuse by family members for many years and how thankful they are for Oasis (run by ministry, truly lives up to its name — such a beautiful property) to have a safe place to live.  One of the girls is 16 years old.  I asked her what would happen to her when she turns 18.  She said she hopes to open a shop and make jewelry now that she knows how.
The art! The art was amazing.  We painted, we wrote and we shared thoughts on hopes and dreams.  We wire wrapped and incorporated beautiful fused glass pieces saved by upcycling (thanks again to Kim Merriman!).  I could write a whole blog post on how touched the girls were that an artist in the U.S. would create and send little glass jewels for them to incorporate into their pieces!  And jewelry, they made lots of jewelry! By the end of the week you could see new earrings on most everyone.  The "wishing windows" turned out so beautiful and the group ones they made were donated.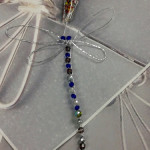 There's so much more I could say but I'll let the photos and my curriculum tell the rest.  It was a great trip. I think what Athentikos is doing with the I Am Art camps is very beneficial.  They have four trips planned this year.  They'd like to expand to other countries.  Is this better than the work of other nonprofits? Maybe or maybe not but it is a way regular people can have a huge impact on these young lives.
One of the "regulars" helping at the art camps is a guy named Rolando.  Rolando works for Orphan Relief, International in Guatemala and he drove all of us out to Oasis.  He also works for a coffee company and who knows what else he does. Anyway, Rolando introduced me to the Workforce Development Director for Oasis and hopes I will come back and work with the girls to learn how to start their own businesses. I would love to do that!  I also talked to Rolando about possibly raising funds for a community garden at Oasis (their home is on such beautiful land) that the girls could tend to and harvest.  I have been researching funders who might support that.
I would definitely  encourage others to do a trip with Athentikos! It was so impactful.  And the people were terrific. The founders of Athentikos are the nicest people and everyone on the trip is a new friend.
In addition to describing the art we made, below also you will find a couple of Haiku poems the girls wrote. That was one of my warm ups and even though the poems didn't translate from Spanish to English with the right number of syllables it was really special to see what the girls wrote.  Another warm up they did was write a short story.  None of them had done that before.  I encouraged them to get published, start businesses, volunteer in their community and dream big.
The girls chose what "track" they'd do including: music, drama, sculpture, knitting, mural painting and much more. At the end of the week we  held an art reception/performances for the community.  Wow, standing room only!  The girls were so proud of what they'd achieved in the week.
Thanks for letting me share some of what I experienced!
Workshop Title: Wire Sculpture/Jewelry Making.
Art Form – Painting/multimedia, paper bead making and wired objects with fused glass. Jewelry making.
Overview
Creating wishing windows with paper beads made from painted self stories. Also incorporated in the wishing windows will be fused glass, glass beads and wire sculptures they will make. We will also make jewelry.  Students will share their personal story using painting and other words and images to describe
their lives and feelings, and the paintings will be incorporated into something beautiful and inspiring using various art techniques. Discussion will focus around challenges, hope, opportunity, and god's
purpose.
Objectives
Students will:
1.         Explore color palettes
2.         Use pictures and symbolism for their life story
3.         Make beads from geometric shapes of paper.
4.         Learn wire wrapping.
5.         Combine different media into a single art piece (beads, wired objects, fused glass)
6.         Exhibit their work and experience and participate in critiques and discussions of their work and the work of others
Background Information
Students will paint their life story on Day One possibly using words from a dictionary page or incorporating words and/or stamped or other images into their paintings); Day Two wire wrap a symbolic item and
adorn it with beads; Day 3 cut up their paintings (also use magazine pages if desired) to make paper beads; Day 4 they will make wishing windows and/or jewelry with fused glass and the paper beads they made;
Day 5 they'll make group (larger pieces of fused glass) wishing windows.
Creating the paintings will allow students to think about their lives and challenges, and add elements (mixed media) for hopes and dreams. Day two we will talk about the opportunities to make something beautiful from (seemingly) nothing of any value. On day three we will discuss the effects of unhealthy choices and sin and shown with the destruction of the paintings. On day four we will recreate something beautiful with their ruined art and talk about our response to God. On day 5 will we create group projects using and talking about our
different gifts and strengths and how mutually dependent/teamwork often far outweighs our efforts individually.
Biblical Concepts:
We are each a unique creation of God
Sin's effect on us and others around us
Encouraging each other and loving ourselves and others
Overflow Activities (Things for students once they complete their primary assignment – this can be the project from the secondary workshop.)
1.         Write Haiku poems
2.         Make adjustable necklaces or bracelets, some with found objects
3.         Write a short story
4.         Make earrings, including forming the ear wires
Afternoon workshops 1.5 hours/30 students daily: Make pendant jewelry or small wishing windows with fused glass and glass beads.  Also make earrings. (This was done so all of the girls could try out the other art mediums)
Haikus from Guatemala translated
Oasis (title): I share with many girls I have many friends I am happy
being in oasis (Roseta)
Untitled: The flowers are so beautiful like yellow because they give birth to
life as God (Patricia)