I had such a great trip teaching in Ecuador but as often happens I came back to life/work and didn't share any photos! Here is a reminder of what I was doing and a link to photos of the women (and a few men too) and what they created.
One highlight is seeing a "lightbulb" moment, and for this trip it was when I taught everyone how to make clasps and earring findings with simple jewelry wire.  Seeing the looks on their faces when working with the wire, to be able to make their own low-cost jewelry components, was rewarding.  Really rewarding!  Worth every hot, humid day and all of the mosquito bites (malaria risk area)…even worth the two hour ride from Coca with the bus almost getting stuck along the washed out road due to torrential rains.
I'm so glad we made it!  We made earrings, rings, necklaces and bracelets and the women displayed them all proudly on the last day when they received their training certificates and shared some of their cultural  celebration rituals.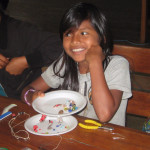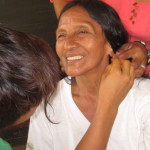 see more photos by clicking here!
It was a great trip and I was lucky to spend a few extra days afterward seeing the sights in Quito. And, I couldn't resist a visit to the Middle of the World Monument to have my picture taken while straddling the equator! The complex was built to commemorate the site where a French explorer calculated the world's equatorial line.
PS Now I have one continent left to visit: Antarctica!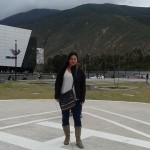 Read More

»